Open for the New Year Orders
Wedding season is in full swing and there are many beautiful flowers coming into the store from the markets. Hydrangers, Delphiniums, Roses, Chrys, Sweet Williams, Lizzys, Sunflowers. Dried posies have been restocked and are ready for sale again. Hampers are still very popular and we have lots of Chocolate Hampers ready for delivery for Valentines. Flowers are readily available to fulfill most of our orders but please be aware that we may have to subsitute some products from time to time. We try very hard to produce an item as close as the photos that are online. If you need to know what is in store on the day call our Florists 0800477345. Over the next week we will be busy preparing for Valentines day with new products being updated for our website so pop in and visit to see what is different. We look forward to delivering your orders in the New Year whatever it may bring. Thank you again for choosing to support a small local Dunedin Business.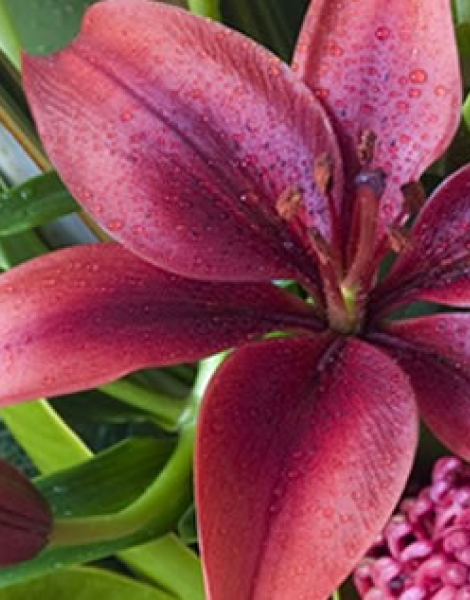 Online Florist Dunedin. Flower Deliveries Dunedin. Gift Hampers.

If you can't make up your mind what to buy someone, give us a call and we'll decide for you.
Stop worrying what to buy – dump your worries on us!
Not only flowers, our personalised gift shopping service is the answer to all your gift-buying dilemmas. We are happy to purchase gifts on your behalf - perfumes, books, clothing vouchers, chocolates, towels. Whatever the occasion calls for, we will endeavour to create the perfect gift for you. We have access to over 45 stores within the Meridian Shopping Centre to find you the solution that you are looking for. We will then package your gift and arrange for delivery. We have an expert shopper at your assistance 7 days a week. Remember finding the perfect gift can take time and if possible we appreciate 48 hours notice to gather, liaise back with you, then create and deliver. Let us organise the perfect gift for you, so you can sit back, relax and enjoy the thank you.

We can deliver beautiful flower arrangements and gift baskets anywhere in Dunedin, Otago and throughout New Zealand. Beautiful roses available for delivery throughout Otago & NZ.

Contact Marguerita Florist to have Mothers Day Flowers, Birthday Flowers, Plant Gifts or Funeral Flowers delivered in Otago or New Zealand.