April 2021
Hydrangers, Roses, Lizzys, Chrysamthemums, Gerberas, Carnations, Tulips and the first of the Orchids Stems to name a few of the seasonal flowers that are available. If you have a special request please pick the phone up and call 0800477345 and talk with our Florists. We offer the freshest of flowers with quality and care in creating all our designs. We also have instore a good selection of ceramics, plants, chocolates, balloons. Thank you for ordering with our online store and supporting our small business. In the next month we will be looking at a different way we do business. If you are an online user nothing will change. Keep in touch with us on Facebook and Instragram. We are now accepting Pre-orders for Mothers Day. We will have an updated 2021 products for Mothers Day available early next week. Keep an eye out for some lovely gifts and flowers coming soon.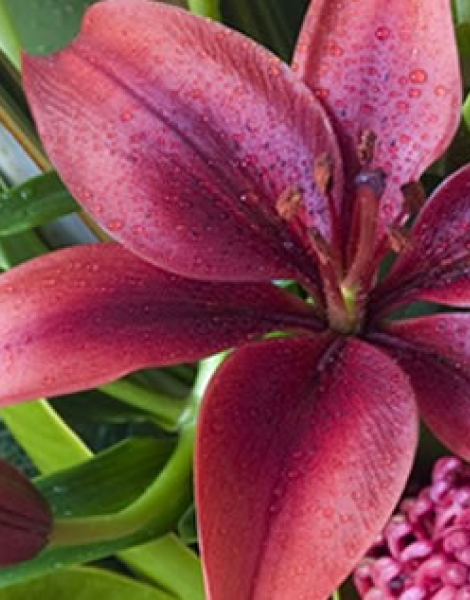 Online Florist Dunedin. Flower Deliveries Dunedin. Gift Hampers.

If you can't make up your mind what to buy someone, give us a call and we'll decide for you.
Stop worrying what to buy – dump your worries on us!
Not only flowers, our personalised gift shopping service is the answer to all your gift-buying dilemmas. We are happy to purchase gifts on your behalf - perfumes, books, clothing vouchers, chocolates, towels. Whatever the occasion calls for, we will endeavour to create the perfect gift for you. We have access to over 45 stores within the Meridian Shopping Centre to find you the solution that you are looking for. We will then package your gift and arrange for delivery. We have an expert shopper at your assistance 7 days a week. Remember finding the perfect gift can take time and if possible we appreciate 48 hours notice to gather, liaise back with you, then create and deliver. Let us organise the perfect gift for you, so you can sit back, relax and enjoy the thank you.

We can deliver beautiful flower arrangements and gift baskets anywhere in Dunedin, Otago and throughout New Zealand. Beautiful roses available for delivery throughout Otago & NZ.

Contact Marguerita Florist to have Mothers Day Flowers, Birthday Flowers, Plant Gifts or Funeral Flowers delivered in Otago or New Zealand.